In April 2012, Building Trust International launched the HOME competition - a project focused on providing residents most at risk in developed cities with a safe place to live. The competition's task was to create an urban dwelling for under £20k, and it resulted in over 450 applications.
One of the applications was an entry from Gensler, a global architecture consulting firm. Gensler produced a detailed report showing how it could be possible to refurbish the Heygate estate for just £14,000 per unit - costing in total less than half of what it has already cost just to empty the estate.
At the beginning of November, we contacted Gensler who gave us permission to display one of its presentation slides on the Better Elephant website. However, last week Gensler contacted Better Elephant to request the presentation slide to be taken back down.
Being just marginally above the £13,000 grant available under the HCA Empty Homes Grants Programme, one can see why the Gensler proposals are interesting for community-led regeneration schemes like Better Elephant, and we were dissapointed to have had to remove the Gensler Heygate slides.
Gensler, were recently selected by Lend Lease to help design its new £1.3 billion commercial district on the edge of the Olympic Park in Stratford City.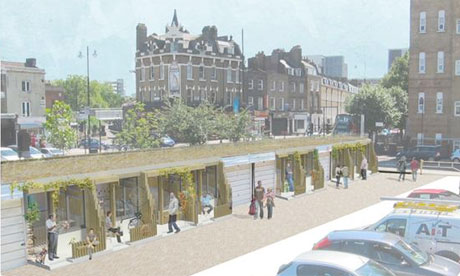 The Gensler Heygate entry won an honourable mention, but the winner of the competition was architect consultancy Levitt Bernstein with its 'pop-up' garage proposal which would allow an 11.5sq m bedsit to be created within a disused garage for around £13,000.
With over 1,000 garages on the Heygate estate this would double the number of homes on the site without any structural modifications. We wonder if Levitt Bernstein will be putting forward this proposal in its masterplan for the forthcoming Aylesbury estate regeneration..
You can view all of the HOME competition entries on the Building Trust International website here: http://www.buildingtrustinternational.org/homecompetition.html