"There are failed housing estates, but this is not one of them."
In 1998, Southwark council commissioned an appraisal study and survey of the Heygate estate. The survey found that the buildings were in structurally good condition and made recommendations against demolition. The survey found that demolition was not the most efficient option, both from an economic and a social perspective. It made full cost estimates and stated that:'Many of the residents on the Heygate estate have lived on the estate since its construction 25 years ago, and many have lived in the locality all their lives.' 'The social effect of demolition would be to completely break up the Heygate community'.(Page 82.)
Despite of the recommendations made in its own report, and the fact that the replacement homes for Heygate residents hadn't been built, Southwark council decided to begin 'decanting' residents into existing council stock elsewhere in the borough.
The current scheme plans to demolish the 1,200 homes on the Heygate estate, and replace them with 2,500 new 'city appartments'. 12.5% of these will be provided as social-rented accommodation, but these will be classed under the new 'affordable rent' category (80% of market rent). Southwark council has confirmed that these new 'affordable rents' range from £275 per week for a 1 bedroom flat up to £549 per week for a 4 bedroom flat -full details here. Furthermore, only 10% of the new flats will be family accommodation units- i.e. 3 beds or above.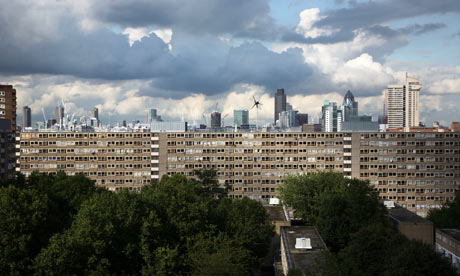 This is a loss of 1,200 TRULY affordable family homes at a time when they are most needed (19,000 families currently on Southwark's housing list). It will serve only to exacerbate the hardship resulting from the current economic crisis, and will result in the existing community being priced out of their neighbourhood.
Southwark council's response to this loss of social-rented homes on the Heygate is that they are going to make up for it by providing new social-rented units within other developments in the area. However, a closer look at the figures shows that only 617 other social-rented homes are due to be built in the E&C area in future.
We don't believe that the current plans are socially just or that they will create a 'sustainable community'- just a transitory population of tenants with little commitment to the area or their neighbours. The London Plan states that 60% of all new homes should be social rented, and that 40% of all new homes should be 3 bedroom or larger.
Better Elephant is discussing plans to retain and refurbish all of the family-size maisonettes on the Heygate estate, by purchasing them under the 'Community Right to Buy' introduced by the new Localism Act. We are forming this proposal based on the recommendations made in the 1998 council-commissioned appraisal study.
There have already been a number of imaginative proposals for refurbishing the estate, and altering buildings for alternative use (ie. converting garages to artist studios/workshops etc.). Similar schemes in other locations - like the Park Hill estate in Sheffield have proven to be a resounding success.